Victorian Artists' Society
May and June Exhibitions
Traditional Chinese Paintings by Mr Mingti Lin
Wednesday 2 May -  Tuesday 8 May 2018
Opening: Wednesday 2 May at 11am
Galleries: Frater, Hammond and McCubbin 
MR MINGTI LIN - THE MASTER OF ARTS AND CRAFTS FROM CHINA
Mr Mingti LIN, also known as Shanguan LIN, was born in Xinhui County, Guangdong Province China in 1935. Mr Lin is an international member of both China Artists Association and China National Arts and Crafts Society.

Mr Lin previously held positions as the Deputy Director of the Chinese Folk Arts and Crafts Committee.   He has also taught as a visiting professor and consultant at Guangzhou Academy of Fine Arts and other Chinese national universities.
At the very young age, Mr Lin developed his passions for Chinese Folk Arts and traditional Chinese ink painting and later taught himself oil painting.
Over the past 40 years, Mr Lin has become an expert in studying Chinese Folk Arts and has published books including "The History of Development of Chinese Folk Arts in Canton", "The Unique Characteristics of Traditional Folk Arts of Foshan", "The Collections of Chinese Folk Arts and Crafts", "The Appreciation of Shiwan Pottery", "Foshan Lion Dancing Decorating Folk Arts", "The History of Foshan Folks Arts".
Since the 1980s, Mr Lin has successfully held various solo Arts and Chinese Traditional Ink Water Painting Exhibitions in China and in New Zealand and group exhibitions with other well-known Chinese Artists, such as Mr Yanliang LIU and Mr Weining LIN.   Mr Lin's art works and paintings have been recognized and indexed into "The Encyclopedia of China Arts" and "The Encyclopedia of China Folk Arts in Guangdong" and "The Encyclopedia of China". In 2000, Mr Lin was awarded the official title of Master of Chinese Arts and Crafts by the state government of Guangdong Province.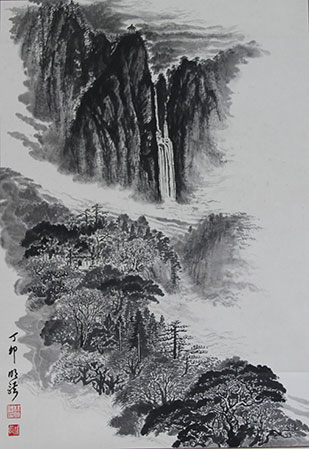 Waterfall from the Mountain - Mr Mingti Lin
Works on Paper: Life and Still Life  
Gaik Oei and Janet Dormer Marlow

Wednesday 2 May - Wednesday 30 May 2018
Meet the Artists: Saturday 5 May 2pm - 3.30pm
Members Room
GAIK OEI is an emerging artist who enjoys working with different mediums, valuing the fluidity of watercolour as well as the ability of pencil, ink, graphite or charcoal to achieve detailed realism for some works. Her subjects are varied, including scenes from travels in Asia and closer to home.
Her achievements to date include:
- Award winner, 2018 Kenneth Jack Memorial Drawing Award Exhibition; 
- Finalist, 2017 Kenneth Jack Memorial Drawing Award Exhibition;
- Commendation, AGRA 2016 Summer Seasonal Exhibition.
JANET DORMER MARLOW has had a life long fascination with the diverse colours and shapes of nature, and their representation in man-made objects. Closely observed variation in leaves affected by chance and season provide backgrounds for object d'art; still-life rendered in pencil and ink.
Geisha - Gaik Oei

 

Crabapple - Janet Dormer Marlow

 
June Hobart - A Retrospective
Wednesday 9 May - 15 Tuesday May 2018
Gallery: Cato
No Opening
June Hobart studied Fine Art in the 1940's in the studios of Archie and Amalie Colquhoun in Melbourne. A 'Plein Air" painter working in oils, June was inspired by the tonal approach to painting.
She first exhibited in a group of four at The Athenaeum in 1950, followed by a solo exhibition at the Georges gallery in 1952.
June travelled extensively in Europe, painting along the way and studying in the Galleries.
A member of The Victorian Artists' Society, The Melbourne Society of Women Painters and Sculptors and The Twenty Melbourne Painters, she also taught at her studio in Kew and at The Sherbrooke Art Society.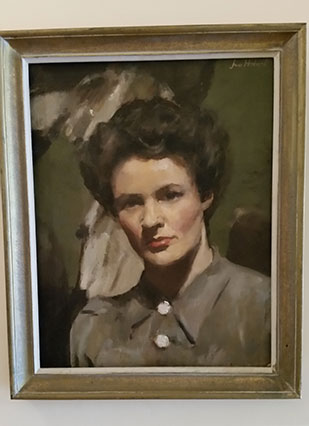 Self Portrait 1948 - June Hobart 

VAS Autumn Exhibition
Undine Landscape Award

Saturday 12 May - Tuesday 29 May 2018
Opening: Tuesday 15 May at 7pm
Galleries: Frater, Hammond and McCubbin
We are pleased to present our annual Autumn Exhibition including the Undine Landscape Award and President's Award.

This will be the first select exhibition for artists with voting going towards the $10,000 VAS Mavis Little Artist of the Year Award.

Running alongside the Autumn Exhibition will be the Undine Landscape Award.  This award was formed in conjunction with Colin Jones in memory of his late wife Undine Padoms and her love of landscapes and painting.

The Victorian Artists' Society galleries will feature original artworks by local artists.
Please join us for the opening of this exhibition. All welcome.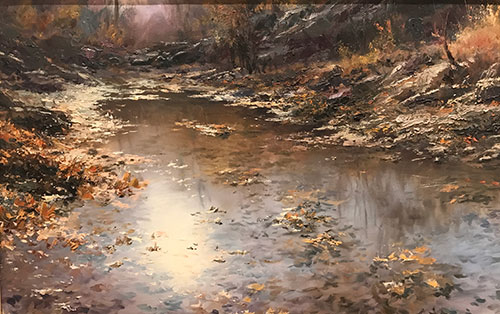 Reflection - Faramarz Mokhtarpour
 A.W. Harding - An Exhibition of a Lifetime
Thursday 31 May - Tuesday 12 June 2018
Opening: Friday 1 June at 6pm
Galleries: Frater, Hammond and McCubbin
A.W. HARDING - AN EXHIBITION OF A LIFETIME
Bill Harding (1930 -2012) was a past President of the Victorian Artists' Society, stalwart member and prolific exhibitor at this distinguished institution.
He was an educator and mentor to many throughout his artistic career. His work is held in public and private collections throughout Australia.
As a painter his commitment to the principle of 'art for art's sake' had never wavered in spite of the pressures exerted to adopt an attitude and style acceptable to popular taste. His mastery of colour harmonies, composition and atmosphere captured while painting from life, evolved through his dedication and commitment to his craft.
This exhibition marks an opportunity for the family to uphold his tradition by holding a major show and sale of a legacy of work at the Victorian Artists' Society Galleries.
Nicholas, Virginia and Matthew Harding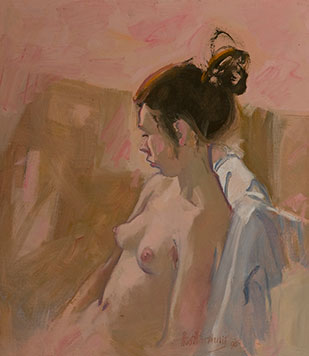 Yvette Chest - A.W. Harding
The Victorian Artists' Society
430 Albert Street, East Melbourne

Opening Hours
10am - 4pm weekdays
1pm - 4pm weekends during exhibitions
All Enquiries:
Victorian Artists' Society Office - (03) 9662 1484
Media Enquiries:
Ron Smith,  Victorian Artists' Society - Mobile: 0417 329 201