Victorian Artists' Society
July Exhibitions
Salon 2018
Oil Paintings from Past to Present
Walter Magilton
Monday 2 July - Tuesday 31 July 2018
Gallery: Members Room
This Exhibition is an attempt to create within the confines of the Member's Room the feeling of a salon of an ancient art society or gallery.
Wall to wall, and floor to ceiling paintings, lushness, overcrowding and wealth all working together to recreate style and taste of earlier times.
The paintings on display are all oils, some from several decades ago, others quite recent. Some have not been shown in public for ages and generally quite large.
Walter Magilton - Noosa Wetland
Victorian Artists' Society Plein Air Exhibition
Thursday 5 July -  Tuesday 17 July 2018
Gallery: Cato
The Victorian Artists Society is pleased to present its annual Plein Air Exhibition.
This is a unique Exhibition showcasing original artworks painted outdoors direct from life. Rail bridges, botanic gardens, coastal towns and jetty's are just some of the subjects explored in this exhibition.
All works are for sale unless indicated. All visitors welcome.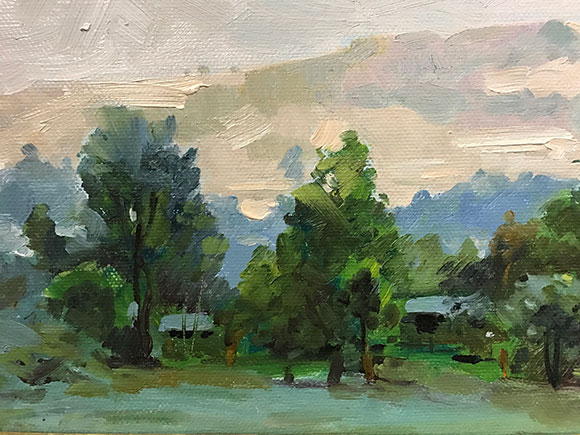 Keming Shen - Blue Morning
SITHOM 2018
Shot in the Heart of Melbourne
Photography Exhibition

Thursday 12 July - Monday 23 July 2018
Opening: Friday 13 July at 7pm
Galleries: Frater, Hammond and McCubbin
The Australian Association of Street Photographers Incorporated (AASPI), who exhibit under the banner of 'Shot in the Heart of Melbourne' (SITHOM), are a group of avid photographers in the "street photography genre", or as it's commonly called, just "street".
Now in its 7th year, SITHOM is a street photography and photojournalism Exhibition that celebrates the decisive, and often indecisive, but always graceful moments within our gritty, yet beautiful city of Melbourne.
The Exhibition showcases individual captures from thirty five diverse and enthusiastic photographers, who have focused on the eclectic hub that is Melbourne.
They capture ephemeral moments. Raw, candid and completely unique. Shot in the Heart of Melbourne is a candid homage to the people, architecture and street life that bring this individual city to life every day.
In recent times, it seems that the time honoured traditional form of street photography has been overshadowed by a flood of more contemporary, staged, digitally manipulated and over processed genres of photography.
Those who love the genre of "street", know the elation inside, when they capture the moment of something truly unique, fleeting, decisive, and never to be repeated!
What is "street photography"? This definition is subjective and varies from person to person, but at best, it's a visual documentation, focusing on a moment in time, of everyday life of society, un-manipulated and usually without the subject's awareness. Street photography doesn't necessarily need people in it. An object, shadow, ray of light can be the subject, rather than a human form.
"I love the people I photograph. I mean, they're my friends. I've never met most of them or I don't know them at all, yet through my images I live with them." - Bruce Gilden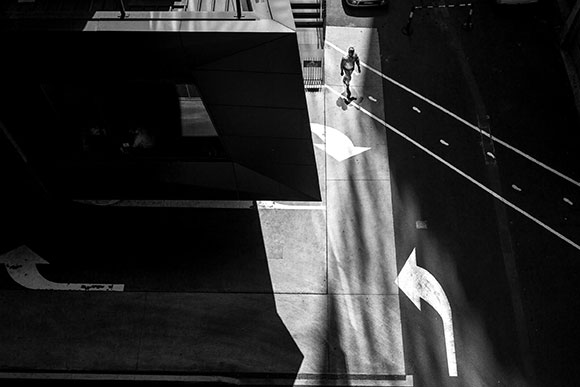 Brett Florence - In Straight Circles
Victorian Artists' Society Student & Teacher Exhibition
Thursday 26 July - Tuesday 7 August 2018
Opening: Thursday 26 July at 7pm
Galleries: Frater, Hammond and McCubbin
The Victorian Artists' Society Art School has a long history of providing art classes to the community. We have been making art accessible to the public from when we first opened. 
Students enjoy the privilege of painting in the same studio, where some of Australia's most well known artists also began their journey.  A studio which has changed very little over the years.  We now have 19 classes on offer suitable for students of all levels in a wide range of mediums including: oil, pastel, watercolour, drawing, acrylic, gouache and clay.  Classes are conducted by highly regarded artists who can help you develop your creative skills.
The Victorian Artists' Society is very proud to present this Exhibition showcasing the work of our students and tutors and invite you to join us on the opening night.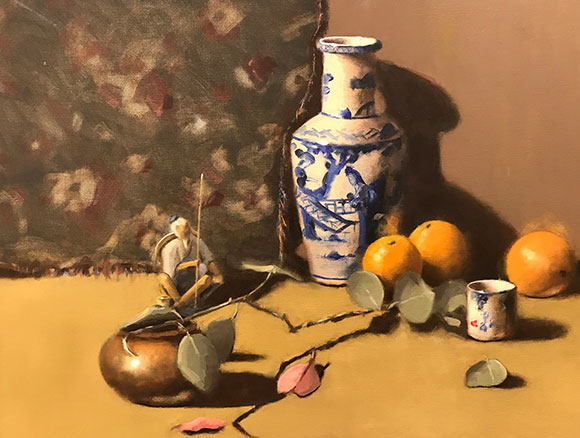 Student Greg Shelley - Chinese Vase and Oranges 
Greg Shelley is a Student of Artist Greg Smith
Atmospheric Landscapes - Ray Hewitt 2018
Wednesday 25 July - Tuesday 31 July 2018
Gallery: Cato
This Exhibition is based on painting atmosphere, atmospheric landscapes. Painting plein air at any time and in various weather conditions opens up a whole new way of viewing the landscape or better still my way of interpreting the landscape. The larger ones were scaled up in the studio from smaller originals.
Ray Hewitt Artist Statement
I was born in 1947 and lived in Newport. I attended the Williamstown Technical School where I stayed after school one night a week to attend the extra art class that was available. I am currently a member of the Hobsons Bay Art Society, the Victorian Artists' Society and the Twenty Melbourne Painters. I have won many awards over the years including the Victorian Artists' Society Artist of the Year 3 times, and the cash award in the Alice Bale Art Award. After teaching art and painting for around 25 years I have finally stopped teaching. I am now painting a lot more plein air which I really enjoy.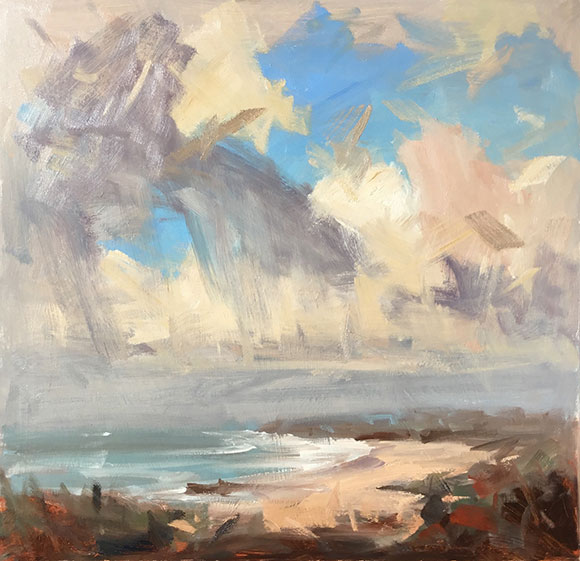 Ray Hewitt - Rain Cloud
The Victorian Artists' Society
430 Albert Street, East Melbourne

Opening Hours
10am - 4pm weekdays
1pm - 4pm weekends during exhibitions
All Enquiries:
Victorian Artists' Society Office - (03) 9662 1484
Media Enquiries:
Ron Smith,  Victorian Artists' Society - Mobile: 0417 329 201