4 + 1 Exhibition
Thursday 28 February - Monday 11 March 2019
Opening: 2.00pm Sunday 3 March 2019
Viewing until 4.00pm Monday 11 March 2019
Frater and Hammond Galleries
The 4 + 1 Exhibition features five artists with wide life experiences that are reflected in their artworks.
The artists include Ron Reynolds, Kirsty McIntyre, Melissa Fraser, Rose Draffin and 
Bronwen Hunt. Ron Reynolds teaches the four artists who are exhibiting with him in the 4 + 1 Exhibition.  
Their artwork exhibits a range of subject matter and techniques that will excite, inform and involve the viewer.
Artist's Statements
Ron Reynolds
Ron Reynolds paints mainly in oils and his semi-abstract images are built upon figurative studies drawn from life. Most of his works are completed in the studio from reductive compositional drawings. Ron's paintings have a strong underlying structure achieved by line and colour.
Ron has been a Victorian Artists' Society Council member from 1994 to 2001 and has taught oil painting for five years at the Victorian Artists' Society art school. Ron was named the Victorian Artists' Society Artist of the Year in 1996, and he won the Victorian Artists' Society Norman Kaye Medal in 1997.
Ron has held ten solo exhibitions and has participated in a number of group exhibitions.
His artworks are part of a number of Collections including the Art Bank Canberra, City of Nillumbik, Hawthorn Institute of State Education, C.I.G. Collection, Southern Health Collection, Olivia Newton-John Centre - Austin Hospital Collection, Ludwig Institute Heidelberg and Private Collections in Australia and overseas.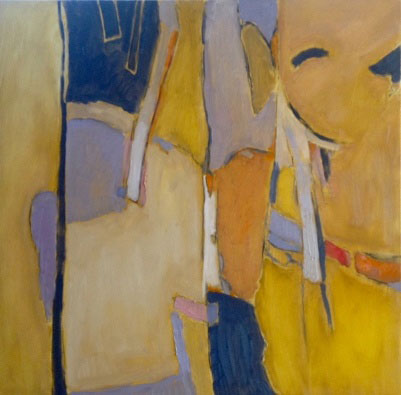 Ron Reynolds - Edge of the Billabong
Kirsty McIntyre
Kirsty McIntyre is a Melbourne based still life painter who lists her main influences as Criss Canning, Margaret Preston and the Scottish colourists. In this exhibition she has focussed on a combination of interior and exterior landscapes, featuring Australian ceramics and flowers.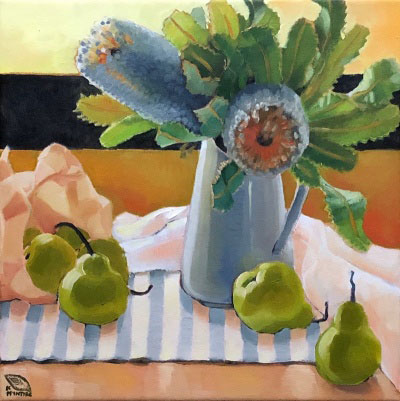 Kirsty McIntyre - Banksias and Pears
Melissa Fraser 
Melissa Fraser is best known for her lively still life's, and large landscapes. Born in Melbourne in 1965, Melissa works primarily in oils.
"In my work, I aim to convey a feeling, an expression of life, rather than a copy of it".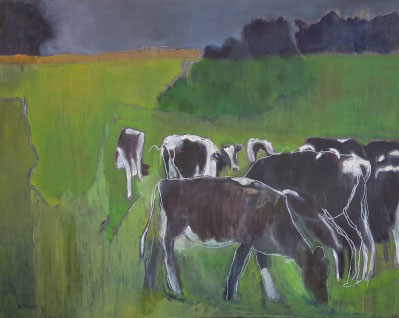 Melissa Fraser - The Sound of Gentle Tearing Grass
Rose Draffin
Horses are a significant reoccurring theme of Rose's artwork. When painting horses she takes a mixed media approach using acrylic and oil paint. Rose's exploration of an abstract under-painting plays a key role in developing the final image. Following the development of this, and the form, she has a particular focus on developing the final surface finish.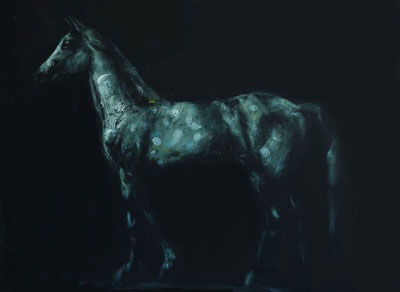 Rose Draffin - The Blue Horse
Bronwen Hunt
Bronwen has recently travelled around Australia and most of her work in this Exhibition has come from drawings on this trip then developed back in the studio with cold wax medium and oil worked on a cradled board.  This allows for flexibility in the development of texture and mood.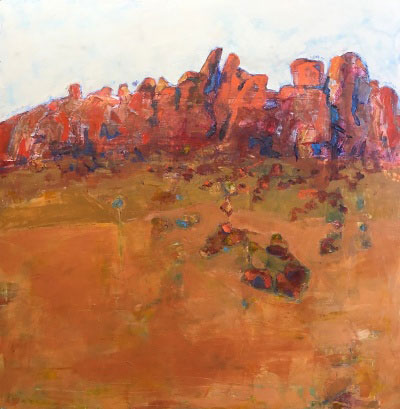 Bronwen Hunt - If I Could Fly
The Victorian Artists' Society's
Historic Art Bargain Sale 
and Little Treasures Exhibition
Viewing until Tuesday 26 February 2019
Frater and Hammond Galleries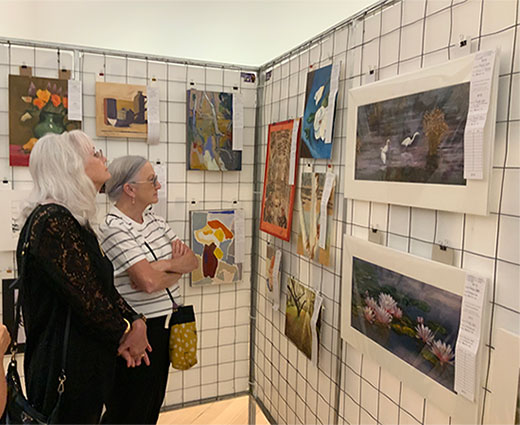 The 2019 Victorian Artists' Society Historic Art Bargain Sale 
Hundreds of unframed paintings, drawings and pastels from established and emerging artists, who are members of the Victorian Artists' Society, are now on sale at the Society's annual historic Art Bargain Sale. Artworks are on sale ranging in price from $75 to $500.
The Little Treasures Exhibition is also on display with smaller framed artworks produced by local artists.
All of the artworks are original pieces created using a wide range of media and depicting various subject matter.  The Little Treasures artworks are for sale ranging in price from $75 to $250.
The Victorian Artists' Society
430 Albert Street, East Melbourne.
www.victorianartistssociety.com.au
All Enquiries:
Victorian Artists' Society Office - (03) 9662 1484
Media Enquiries:
Ron Smith,  Victorian Artists' Society - Mobile: 0417 329 201